Ready to Ditch the Dorms?
5 Eco-Friendly Moving Tips for College Students
Authored By: Melissa Maranto
Melissa studied English at UCLA. She is now a magazine editor who still loves the beach as much as she did as an undergrad.
After your freshman or sophomore year, it may be time to move out of the dorms and into a house or apartment.

From packing tape and heavy boxes to budget trucks and moving companies, relocating to your first official place takes a toll, and it can also take a toll on our environment. If moving is in your near future, here are five eco-friendly tips to help you relocate as smoothly as possible.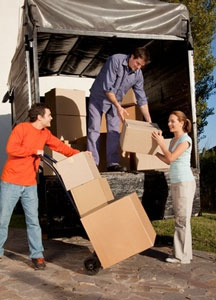 Get a Head Start
Get started early, even if it means just choosing a day to move and establishing a packing plan. If you don't, you are likely to procrastinate and end up throwing items out instead of recycling, reusing or selling them. Packing usually means going through each item in your house and maybe spending a night or two reminiscing through old albums or journals. Start packing early to allow for extra time to be spent on those special finds.
Have a Packing Plan
Start storing items you don't use daily and have a packing plan based on either room type or item category. Consider setting a box aside containing your important documents and daily essentials you will need right when you move in, such as your Social Security card, toilet paper and a toothbrush.
Don't be a Pack Rat
The less stuff you accumulate, the less you will have to pack up and move away. Start downsizing now by recycling your old gadgets, donating used clothes and shoes and upcycling things you don't use. Printers and used cartridges can be dropped off at any Staples location. They'll dispose or reuse those items for you, sometimes giving cash rewards in exchange.
If you live in a municipality that offers recycling services, this step can be as simply as filling up a container and putting at the end of your driveway. If not, you can always arrange recycling services and garbage collection from republicservices.com or other local waste management companies to help avoid moving unnecessary items.
Rent Reusable Packing Materials
Card board boxes can be expensive and bulky to store. Opt for rentable, reusable plastic storage bins made completely from recycled plastic. Rent a Green Box is a zero-waste packaging and moving company that rents pre-assembled, ready to use plastic boxes for residential and business moves. The boxes can be rented in weekly time blocks — helping you not to procrastinate your packing plan — and are delivered and picked up from your front door. These boxes give you a green solution for a guilt-free move and eliminate the need for packing tape and other annoying materials.
Give the Grub Away
If you aren't able to eat everything in your refrigerator before the big move, have a plan to give those last perishables away. Family, friends, neighbors or shelters that accept food will happily accept your extra loaves of bread or cartons of milk, but alert them ahead of time so nothing will go to waste during your move. You can also donate your non-perishable food through an organization called Move For Hunger, which has a large network of food banks that sort and donate the food to local families in need.